With The Exception Of The Mini Books All Pieces Should Be Printed On Heavy Cardstock Or Index Paper For Durability. Any Office Supply Store Sells The Thicker Papers – As Do The Discount Stores Such As Wal-Mart. (If You Are Making File Folder Games – The Patterns That Get Glued On To The File Folder Can Be Printed On Regular Paper).
Another Thing That Will Need To Be Done Is To Laminate The Patterns Once You have Printed And Cut Them Out. If You Do Not Have A Laminating Machine Or Do Not Have Access To One… Clear Contact Paper Makes A Great Substitute.
Felt Board Pieces: Simply Print Off The Desired Patterns… Cut… Laminate… Velcro To The Back Of The Pieces (This has always worked best for me – but I have heard of others putting felt on the back of the pieces instead of Velcro).
I Use The Pieces Both At Our Circle Time and At Free Play Time (The Nice Thing About Having The Patterns On CD Is That If One Gets Damaged Or Lost You Can Just Print Out Another). We Do Matching A Lot On The Felt Board. I Give The Students Pieces To Put Up To See If They Can Match What Is On The Board.
It Is Also Nice To Use For Reviewing The Concepts Of Letters – Numbers

Magnet Board Pieces: Print … Cut… Laminate And Attach A Small Piece Of Magnetic Tape To The Back. Use In The Same Way As Felt Board Pieces. I Store My Pieces In Zip Lock Bags And Let My Students Use These At Free Play Time. They Love Being The Teacher and Trying To Match Up The Pieces.
Stick Puppets: This Is Super Easy… Print Patterns … Cut Out… Laminate and Attach A Craft Stick. We Use These During Circle Time. Some Things You Can Do Is To Give Each Child A Stick Puppet and Play "Who Has"…. For Example "Who Has The Letter Q?" … "Who Has The Letter B?"
Memory Games: We All Remember Playing Memory Games. You Will Need Two Of Each Pattern. Print… Cut… And Laminate.
To Play… Select A Certain Number Of Pieces To Be Put Down On The Play Area (We Use The Floor A Lot). Make Sure There Are Two Of Each Piece… Mix Them Up And Put Them Face Down. The Number Of Piece You Will Put Down Depends On The Age Of The Children Playing… Put Fewer Down For Younger And More Down For Older.
Child Turn Over One Piece And Then Turns Over Another To See If They Match. If They Don't Turn The Pieces Back Down And It Is The Next Childs Turn. When Two Piece Match The Child Takes Them Off The Play Area And Gets Another Turn. Continue Until There Are No More Pieces Left.
File Folder Games: These Are My Absolute Favorite!! If You Are Looking For More File Folder Games I have Over 107 Preschool File Folder Games At www.childcarleand.com !
If A Child Is Just Starting Out You May Want To Print Two Copies Of Each Pattern And Having Them Start By Matching The Same Items… All Upper Case or All Lower Case. For More Advance Make One Copy Of Each… One Set Upper Case One Set Lower Case and Have Them Match The Upper With The Lower. Cut… Laminate One Set and Glue The Other On To A File Folder (I Use The Color Ones). It Is Best If You Can Laminate The Folder After The Pieces Have Been Glued On… But I Have Found That They Last Pretty Long Without Being Laminated. Just Remember To Laminate The Loose Pieces That Are Used For Matching. Store Loose Pieces In An Envelope Or Zip Lock Bag.
Mini Books: These Are Great For Teaching Letter And Number Identification. You Do Not Need To Print The Book Patterns On Index or Cardstock Paper…. Regular Paper Will Do Fine.
The First Thing You Need To Is To Print Out The Book Patterns. Cut Out And Arrange In Order... Set Aside The Cover Page ... And Staple The Rest Between Two Sheets Of Construction Paper. Glue Cover Page OnThe Front Sheet Of Construction Paper. Color Or Paint The Book.

Puzzles: Print Out On Cardstock Or Index Paper… Laminate and Cut Along Lines. There Are A Couple Of Ways To Have The Children Put These Together. They Can Put The Pieces Without An Example To Follow… Or You Can Make Two Copies… Laminate… Cut One Into Pieces And Leave The Other One Whole. Have Children Put Puzzle Together On Top Of Whole Sheet. Another Way Is To Glue On Sheet On The Left Side Of A File Folder And Recreate The Picture On The Right Side Of The File Folder.
Name Plates: These Can Be Used For Cubbies.. Desks… Lockers … You Can Laminate Them And Let The Children Practice Writing Their Names With Wipe-Off Crayons Or Markers.
Matching Mats: Print Out Two Copies On Cardstock Paper. Laminate One Sheet … Cut Out Pieces Of Other And Laminate. Match The Pieces By Putting The Loose Pieces On The Mat.

Felt Board Stories: Print… Cut Out Pieces And Laminate. Children Love Felt Board Stories And They Love The Repetition Of Them. Be Animated When Doing The Felt Board Stories… After Completing A Story Ask Children Simple Questions Like "How Many Gingerbread Men?" "What Do You Think Gingerbread Men Taste Like?" Have Them Count And Tell Colors.
Tic-Tac-Toe Games: Everyone Knows How To Play This Classic Game.
Board Games: Even Though These Are Called Board Games… I Find That They Work Better In A File Folder. Glue The Game Boards Inside A File Folder And Laminate The Game Pieces. Instructions For How To Play Are On Each Game.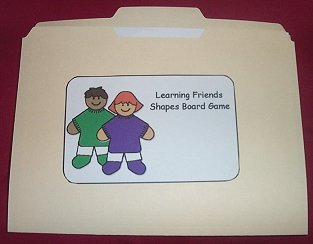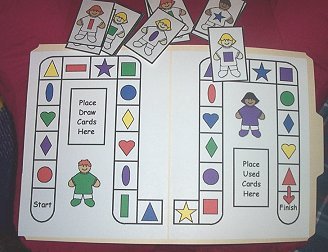 Examples From Learning Friends CD
www.childcareland.com
Flip Books: These are very easy to make and the children love them…. Print patterns on cardstock or index paper and cut out … cut all the pages out and laminate. Cut all the pages except for the cover and back page in half where indicated. Punch holes where indicated and attach book rings. You can put the pages in order or mix them up. Children try to find the matching pages.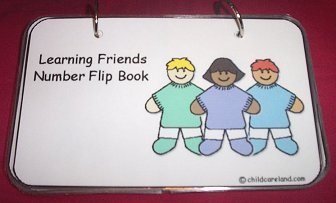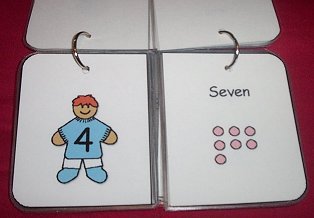 Examples From Learning Friends CD
www.childcareland.com
Number and Alphabet Rings: The children love to walk around with these and look at them. Print out on Cardstock index paper. Cut out and fold in half so that the printing is on both sides. Laminate and cut out. Punch holes where indicated and attach book ring.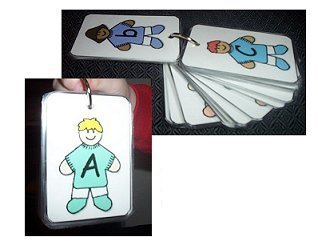 Examples From Learning Friends CD
www.childcareland.com
Again… Choose What You Want To Make… Make Several Different Activities From Each Pattern. Use Your Creativity And Have Fun!
Shelley A. Lovett

www.earlychildhoodprintables.com
www.childcareland.com